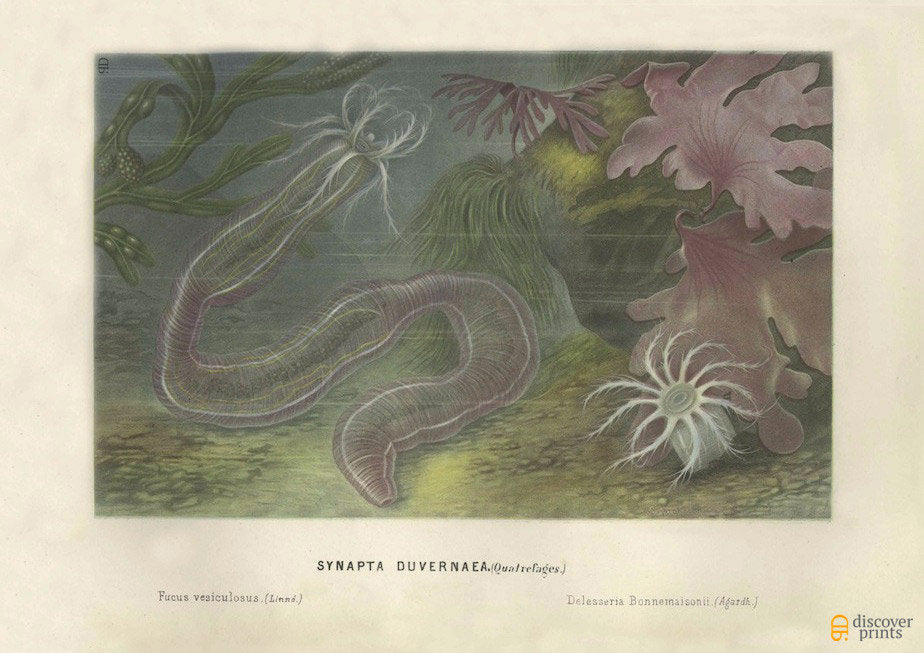 $10.00
$0.00
Incl. VAT. excl. shipping costs
Delivery time: ca. 5-10 days
Sea Cucumber Seaweed Art Print
This fine art print contains: sea cucumber, bladder wrack, algae, kelp

The Synapta Duvernaea is a sea cucumber, a type of squishy little sea creature with transparent skin and limited mobility capabilities that lives in mud and muddy sand and eats detritus. Here we see our strange little friend posing with some bladderwrack, and other algaes. Illustrated in lovely subdued colors, this image shows very well in a series along with our sea anemone, polar bear, sea worms, lobster, sea turtle, and giant squid prints in this section. Perfect for the marine biologist or bear enthusiast in your life.
Please select your size (ask for other sizes if you can't find the one you are looking for).

| | | |
| --- | --- | --- |
|  Size | in cm | in inches |
| A5 | 14,8 x 21 cm  | 5.8 x 8.3 in |
| A4 | 21 x 29,7 cm | 8.3 x 11.7 in |
| A3 | 29,7 x 42 cm | 11.7 x 16.5 in |
| A2 | 42 x 59,4 cm | 16.5 x 23.4 in |
| A1 | 59,4 x 84,1 cm | 23.4 x 33.1 in |
| A0 | 84,1 x 118,9 cm | 33.1 x 46.8 in |


WHAT'S THE BIG DEAL?
➳ extensive, curated selection of rare prints
➳ professional high-res scanning
➳ color adjustment based on the original from our archive
➳ 200+gsm German fine art paper
➳ best archival pigments available (fade-proof for 70+ years)

Please be aware that slight color variation due to monitor differences can occur.


All images © Discover Prints

Materials: low acid heavyweight cotton paper,archival pigments