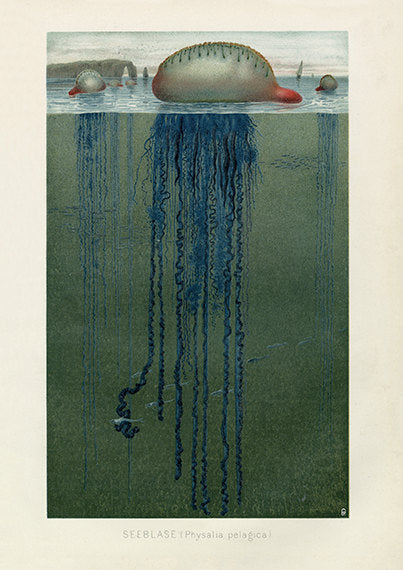 $10.00
$0.00
Incl. VAT. excl. shipping costs
Delivery time: ca. 5-10 days
Man O' War Jellyfish Art Print
Sure, this vintage lithograph reprint is beautiful. It's extraordinarily-colored, especially for the age, and the low proportion of negative space to dark, positive space is unusual, bold and striking. But did you know how cool Man 'o War are? They're not one organism but a siphonophore, comprised of three separate organism types that work together to make it one of the more mobile and poisonous jellyfish in the ocean. Obviously the comparison to its namesake, heavily-armed and brutally quick 17th century warships, is not without merit. Ugh, nature is so cool!
| | | |
| --- | --- | --- |
|  Size | in cm | in inches |
| A5 | 14,8 x 21 cm  | 5.8 x 8.3 in |
| A4 | 21 x 29,7 cm | 8.3 x 11.7 in |
| A3 | 29,7 x 42 cm | 11.7 x 16.5 in |
| A2 | 42 x 59,4 cm | 16.5 x 23.4 in |
| A1 | 59,4 x 84,1 cm | 23.4 x 33.1 in |
| A0 | 84,1 x 118,9 cm | 33.1 x 46.8 in |
Please select your size (ask for other sizes if you can't find the one you are looking for).
Please note that the descriptions and words on this print are in German.
This is one of my best-selling prints: a gorgeous reproduction from my original "Art Forms in Nature," over 100 years old. This was originally created between 1899-1905 by the incredibly prolific and sought-after biologist, naturalist, philosopher, physician, professor and artist Ernst Haeckel. Known for his brilliant coloration and artistic and near-hallucinogenic style, he was a master of marrying art and science in a way that is still unrivalled today. This work has had a great influence on Art Nouveau, also through René Binet's "Esquisses décoratives," inspired by Haeckel.
Haeckel was a prominent figure in biology in Germany during the 19th century. Early in life, Haeckel came into contact with the writings of great naturalists as Matthias Jacob Schleiden, Alexander von Humboldt and Charles Darwin, the latter of whom he even met in 1866. His special field of interest as a researcher were the radiolarians. From radiolarian specimens, collected during the Challenger expedition (1872 – 1876), he alone described more than 3500 new species.
Haeckel's main aim in publishing the hundred plates in the "Art Forms in Nature" was an aesthetic one. He wanted to give educated people an insight into the beautiful treasure of beauty – hidden in the depths of sea or only visible through the lens of a microscope. To him, the beauty of mammals and other higher life forms were already known to humans all along human history, whereas the ornamental or geometrical beauty of lower lifeforms was until 1900 unknown. That is why he published such a high number of plates about those lower lifeforms, for example 27 plates on jellyfish 22 plates on protists and 10 plates on starfish.
WHAT'S THE BIG DEAL?
➳ extensive, curated selection of rare prints
➳ professional high-res scanning
➳ color adjustment based on the original from our archive
➳ heavy-weight archival paper
➳ best archival pigments available (fade-proof for 70+ years)
HOW WE GET IT TO YOU:
✯ shipped globally w/ tracking via Deutsche Post in protective and sturdy cardboard
✯ approx. 10 days globally, and 5 days within Europe
✯ five-day global UPS Express rush shipping available (add $30)
✯ we offer flat-rate shipping, so there's no cost for additional prints
WHO AM I?
My team and I have been collecting books and curating prints for 10 years, selling in German markets for 5, and online for a couple years. We know what we're doing. We are an eclectic blend of biologists, teachers, artists, and designers. But the thing that unites us is a passion for our work: digging through our massive archive of over 50,000 prints, searching for the rare, the beautiful few and using our technical know-how to create the best reproductions possible scanned directly from the originals. Each print you see requires several hours of work in order to meet our standards. In a word, we're selling museum-quality prints at thrift store prices, and we love it. Thanks for visiting, and feel free to contact me with any questions!
- Uwe
p.s. - please be aware that slight color variation due to monitor differences can occur
All images © Discover Prints
Materials: archival ink,archival paper
Only 1 available