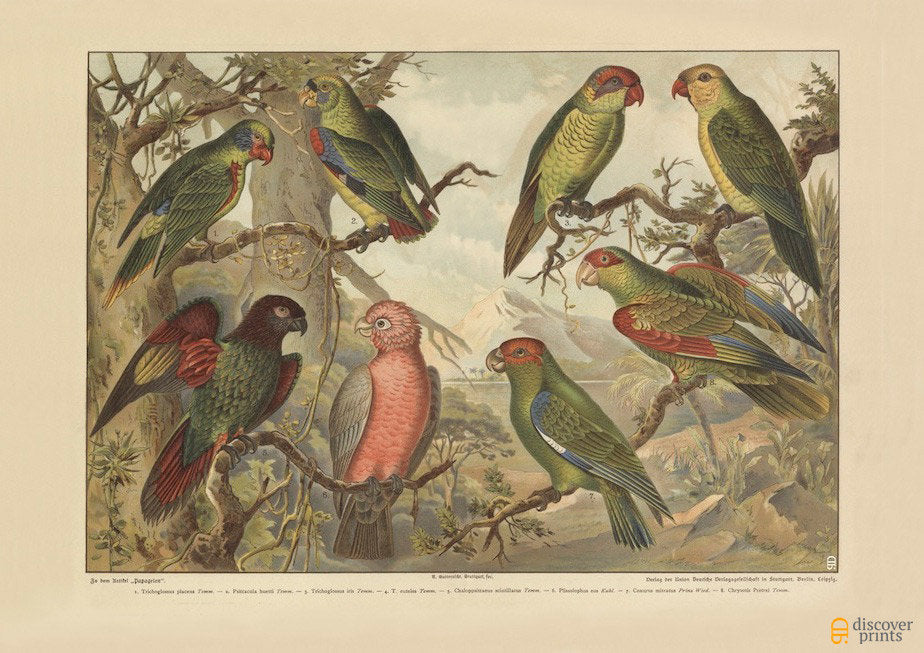 $10.00
$0.00
Incl. VAT. excl. shipping costs
Delivery time: ca. 5-10 days
Parrots Art Print
This museum quality print contains: parrots, parakeets, macaws,

I've never quite understood people who keep birds as pets, so this is a perfect solution to the lack of birds in your house - a fine art reprint of a 19th century German lithograph. For bird watchers and closet bird lovers, nothing could be better than to appreciate the majestic beauty of these animals in their natural mountainous habitat without the incessant whistling, cackling, and judging eyes from a cage.
Please select your size (ask for other sizes if you can't find the one you are looking for).
| | | |
| --- | --- | --- |
|  Size | in cm | in inches |
| A5 | 14,8 x 21 cm  | 5.8 x 8.3 in |
| A4 | 21 x 29,7 cm | 8.3 x 11.7 in |
| A3 | 29,7 x 42 cm | 11.7 x 16.5 in |
| A2 | 42 x 59,4 cm | 16.5 x 23.4 in |
| | | |
| | | |


WHAT'S THE BIG DEAL?
➳ extensive, curated selection of rare prints
➳ professional high-res scanning
➳ color adjustment based on the original from our archive
➳ 200+gsm German fine art paper
➳ best archival pigments available (fade-proof for 70+ years)


Please be aware that slight color variation due to monitor differences can occur.



All images © Discover Prints

Materials: low acid heavyweight cotton paper,archival pigments