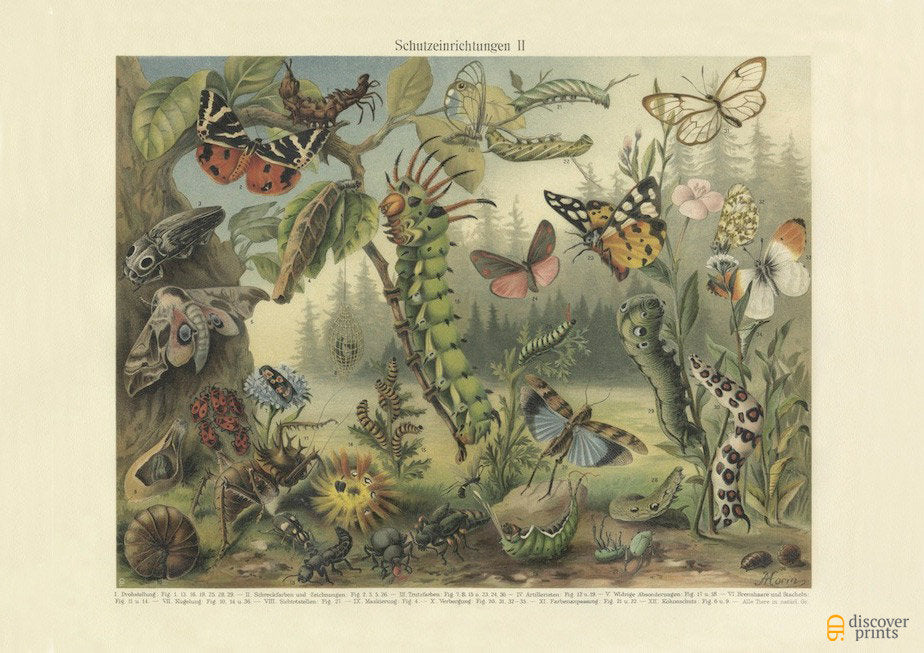 $10.00
$0.00
Incl. VAT. excl. shipping costs
Delivery time: ca. 5-10 days
Insect Defenses Art Print
This museum quality print contains: monarch butterfly, tomato worm, lady bugs

This wonderful print shows a number of different types of insect defense mechanisms, from poisonous spikes, to playing dead, to showing bright scary camouflage, it's as if these bugs borrowed from my playbook about how to avoid conversations with people I don't want to talk to. This lovely print makes a lovely gift for a wedding, babyshower, birthday, or to commemorate a special event. Perfect for the entomologist in your life.
Please select your size (ask for other sizes if you can't find the one you are looking for). 
| | | |
| --- | --- | --- |
| Size |  in cm | in inches |
| A5 | 14,8 x 21 cm  | 5.8 x 8.3 in |
| A4 | 21 x 29,7 cm | 8.3 x 11.7 in |
| A3 | 29,7 x 42 cm | 11.7 x 16.5 in |
| A2 | 42 x 59,4 cm | 16.5 x 23.4 in |
| A1 | 59,4 x 84,1 cm | 23.4 x 33.1 in |
| A0 | 84,1 x 118,9 cm | |
WHAT'S THE BIG DEAL?
➳ extensive, curated selection of rare prints
➳ professional high-res scanning
➳ color adjustment based on the original from our archive
➳ 200+gsm German fine art paper
➳ best archival pigments available (fade-proof for 70+ years)

Please be aware that slight color variation due to monitor differences can occur.



All images © Discover Prints

Materials: low acid heavyweight cotton paper,archival pigments